08 Jun

North Toronto Ontario Health Team working together to vaccinate Torontonians facing barriers to COVID-19 vaccine access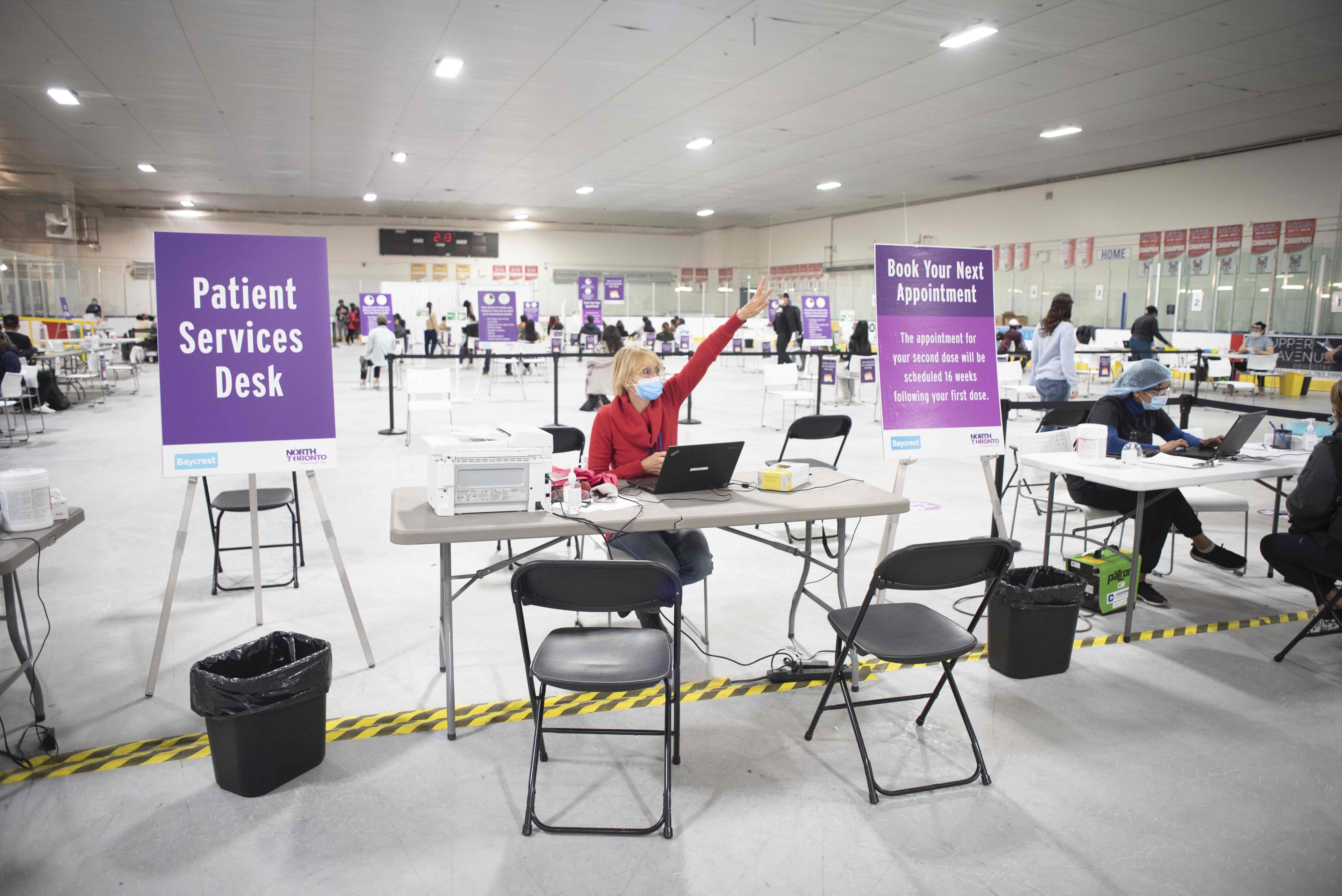 – June 8, 2021
While the COVID-19 vaccine rollout has been ramping up here in Ontario, Hui Geng still sees many people struggling to get vaccinated, despite it being their turn to get the jab.
Hui works with many of these individuals as a program manager at the North York Community House (NYCH), an organization that works closely with vulnerable populations such as seniors, newcomers to Canada and residents from marginalized communities.
"They're very anxious and want to get vaccinated for themselves and for their families as soon as possible," Hui says of her clients, many of whom are essential workers including caregivers, PSWs, factory workers and restaurant employees.
Unfortunately, many of these individuals have encountered obstacles in trying to secure vaccine appointments. These obstacles have included: language barriers, leading to a lack of understanding as to when and how to get vaccinated; limited access to technology, making them unable to use online booking systems; and little time off work, making them unable to wait in the long lines that exist at many of the city pop-up clinics.
Recently, though, Hui and NYCH have teamed up with the North Toronto Ontario Health Team (NT OHT) to address these vaccine-access issues.
"Since we started the collaboration with the NT OHT, we were really able to have our workers help clients book their vaccines," she says.
Among other supports, the NT OHT has provided NYCH with dedicated and simplified booking links, which have allowed Hui and her team to help clients book appointments at Baycrest, Sunnybrook and even specialized pop-up clinics in the area.
"Staff are so supportive and everything has gone very well," says Hui of this new partnership. "I'm so, so happy the NT OHT reached out to us because we are the ones who really have a connection with more marginalized and vulnerable communities. With this support, we're really able to help our clients."
In just under a month, this new partnership has helped 1,200 NYCH clients get their first dose of the COVID-19 vaccine.
And this is just one example of a North Toronto community who's benefited from the Ontario Health Team's collaborative and community-led approach to getting people vaccinated.
Throughout the COVID-19 vaccine rollout, the NT OHT has worked together to immunize large masses of Torontonians and to identify and vaccinate smaller communities who've had barriers to access.
"Integrated, collaborative care is better," says Jagger Smith, the program director of ambulatory transformation at Baycrest, when reflecting on the Ontario Health Team's vaccination work.
He says that each member of the NT OHT brings something different to the table, from staffing resources to teaching skills to unique ties to the community to actual vaccines. And together, the team is able to do more than what could be done alone.
"We're all working together," he says. "This is the way that care should be."
Throughout the vaccine rollout, the team has implemented large vaccine clinics, organized numerous pop-ups targeting specific vulnerable populations, and even gone door-to-door to get people their shots.
"This is a chance for the Ontario Health Team to integrate our collaborative care with the community," says Jagger of the NT OHT's work in the COVID-19 vaccine rollout. "It's forming our culture and that culture will do the preventive, proactive things that make our population healthier."
Hui has seen the truth of this statement firsthand through her clients who have now had a first dose of the COVID-19 vaccine.
"Working together, we're really supporting people to help them to better cope with the situation," she says.