10 Aug

Spotlight on our COVID-19 Response

– August 10, 2020

Since the global pandemic was declared in March, the partner organizations of the North Toronto Ontario Health Team have been collaborating to ensure seniors and other members of the community receive the care they need.

Here is a snapshot of our strong partner response.
North Toronto COVID-19 Community Response Team
Stacey Saukko recalls noticing a tenant from Montgomery Place who visited Sunnybrook Health Sciences Centre's Emergency Department once a week. The social worker at Baycrest Health Sciences had joined the North Toronto COVID-19 Community Response Team in March to help provide onsite primary health care services to seniors in Toronto Community Housing.
After spotting the weekly pattern she promptly scheduled regular visits with a nurse practitioner to connect him with primary care support. "Our goal was to keep him from going out each week, reducing burden on an acute care hospital and helping to keep everyone safe during the pandemic," says Stacey.
Stacey says the strength of the interdisciplinary team has made a huge difference in ensuring tenants' needs are addressed quickly. In addition to social workers and nurse practitioners, the response team includes a pharmacist, dietitian, occupational therapist and physical therapist, all set up to easily connect with a primary care physician virtually when needed.
In just over two months, team members made a wellness call to every unit and reached about half of the tenants by phone. This was followed up by a door knock to those tenants not reached by phone. A mobile team also tested 128 tenants in their units within 48 hours of a suspected case.
Partners who joined to protect seniors from the risks of COVID-19 included members of the North Toronto Ontario Health Team, as well as Toronto Community Housing, North York Toronto Health Partners, North York General Hospital, Circle of Care (part of Sinai Health), the Yee Hong Centre for Geriatric Care and the Government of Ontario.
Sunnybrook's Department of Family and Community Medicine Steps Up
The work of Sunnybrook Health Sciences Centre's Department of Family and Community Medicine continues to touch every patient population during the pandemic, from pregnant patients, to newborns to seniors living in the community.
Here is a look at some of their work:
Family physicians are seeing patients in the community who have chronic diseases that require in-person care, but who have been unable to access their usual care due to COVID-related closures and limitations.
The babies of COVID-19 positive mothers are able to access New Baby Assessments after being discharged from the hospital and safely completing their 14-day quarantine.
A family physician accompanied the hospital's Infection Prevention and Control team on visits to retirement homes in the community.
The team's family medicine palliative care physicians are providing access to palliative care consultations for long term care and retirement homes in the community who are struggling with COVID-19 outbreaks.
Pregnant patients have continued to have appointments virtually, and successful prenatal education sessions are held virtually through Zoom for pregnant patients and their partners.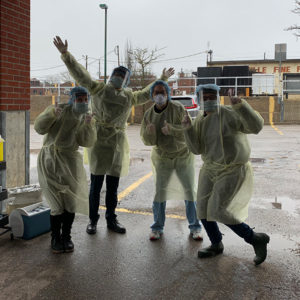 Drive-Through Immunization Clinic
When Dr. Pearl Yang, family physician, noticed a drop in personal protective equipment (PPE) in her community clinic, she was concerned about meeting her patients' immunization needs. She organized a drive-through immunization clinic to facilitate continued administration of regular childhood vaccinations and other timely immunizations. Dr. Yang's weekly clinic in Stouffville has two physicians administering shots in full PPE as patients and families drive through a covered parking area. This innovative approach has allowed approximately 50 patients to be vaccinated in a single morning.
COVIDEO Provides Virtual Supportive Care
A new program is helping Sunnybrook Health Sciences Centre patients with COVID-19 who have mild to moderate symptoms manage their recoveries at home, providing support and a care plan by phone or video.
"We created COVIDEO because we didn't want to notify our patients at home that they've tested positive for COVID-19, and then abandon them. It's important that they still have access to a support system," says Dr. Nick Daneman, an infectious diseases physician at Sunnybrook.
Sunnybrook's infectious diseases team is informed of a positive COVID-19 diagnosis, and the patient joins COVIDEO as an outpatient. Scheduled visits continue at regular intervals, sometimes daily, until the patient either recovers or deteriorates enough to require admission to the hospital.
The initiative gives patients a therapeutic presence, reassurance, supportive care strategies, a monitoring plan and a point of contact for emergencies. It also allows for a safe way to bring in the minority that require admission to the hospital, says Dr. Daneman.
In the news: Felister Mburu from VHA Home HealthCare
The Toronto Star profiled the commitment of Felister Mburu, a personal support worker from VHA Home HealthCare, during the pandemic.